miMind is a mind mapping tool designed to create and share ideas and activities, such as, project planning, brainstorming ideas, designing, thought structuring, summarizing ideas, discussions, poster presentation, project demonstrations and many other creative applications. If you have not already, please download and try the software for free via the 'Downloads' links at the bottom of the page.
Pro version features:
Auto-sync maps based on cloud services such as Google Drive and Dropbox,

High resolution (HD, UHD) export of maps as images, PDF, text outline,

Folder management: You can create virtual folders to manage and organize your maps,

Additional map themes,

Unlimited map files,

Custom color palettes: You can create your own color palette (selection of colors) to apply on nodes and lines,




Search text: You can search for text in a node, which is particularly useful for larger maps, and quick navigation,

Audio playback/recorder feature (if applicable or allowed by platform),




Share or email high resolution image/pdf of map to anyone,

Formatting of connecting line-texts such as color, background, and font,




Allows to change the shape of connecting lines, and

Many more paid features would be added in future releases.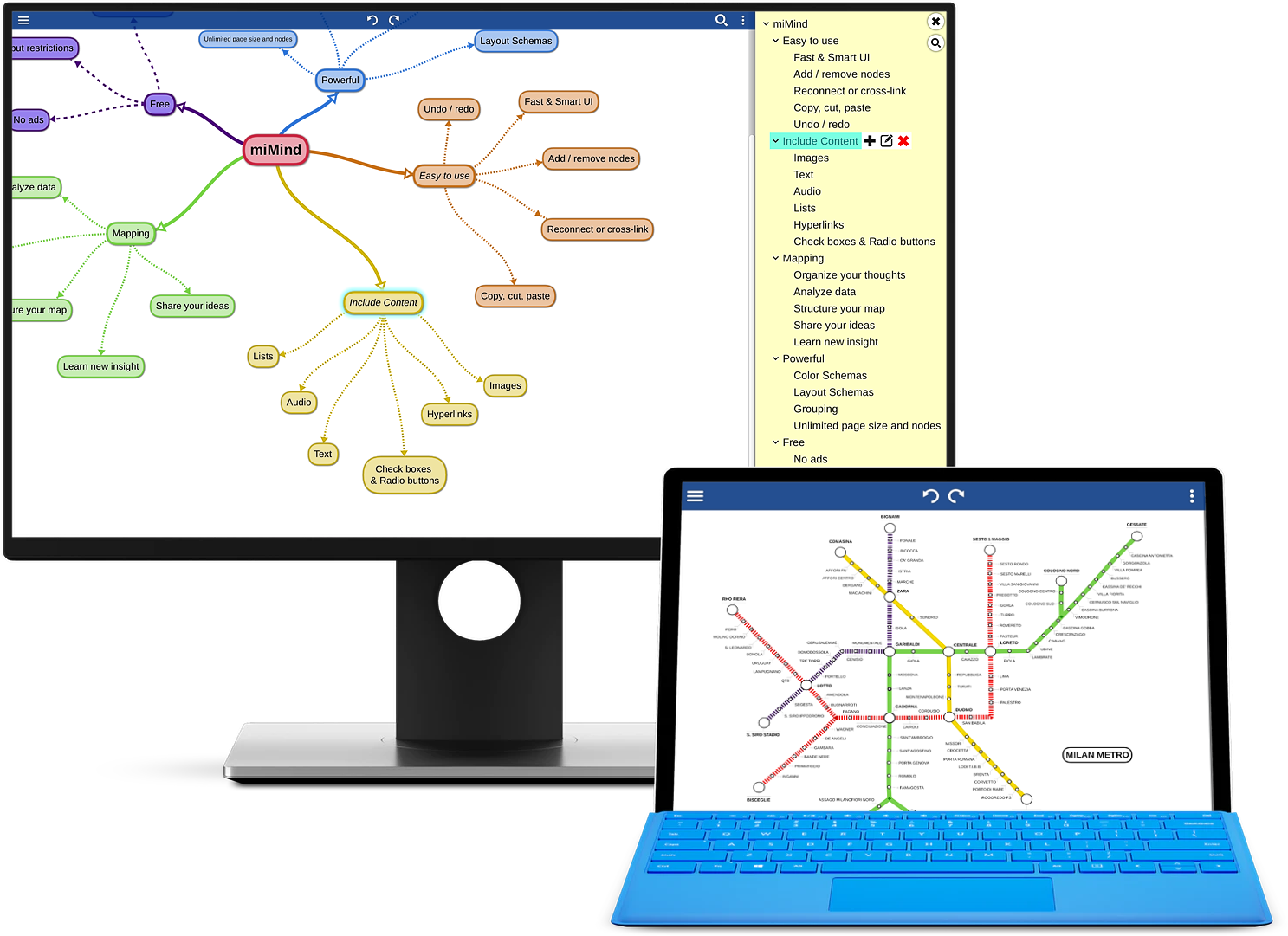 License:
On purchasing of this product, it provides one year license for:
personal use on up to four Windows OS devices

belonging to the buyer of the license

, or

commercial use on one Windows OS device belonging to the buyer of the license.
The license will expire after one year from the date of the purchase, and the product would be reduced to the free version until a new Pro version license is registered. Please visit our Terms and Conditions page for more info.
Pricing and Taxes (Sales Tax, VAT or GST):
The price shown on the product page is in U.S. dollars, and it excludes taxes. If your local government imposes any tax on this product category, it may be added to the product price during the checkout process, and will also be reported on the final invoice. Any such taxes collected goes to your local government to support social welfare projects.
Further queries:

FAQ page provides answers to many frequently asked questions. If you have any questions regarding the product, or if you would like to inquire about any other issues, please feel free to Contact Us anytime.
miMind Pro (Windows) - 1 Year license
Brand: CryptoBees LLC
Product Code: MIMINDPRO-WIN-1Y
Availability: In Stock